IMG Applications | Overview

An IMG is an International Medical Graduate, this basically means that they have gained their medical degree at an institution outside of the United States. This does not, however, mean that they are not American citizens, over 5000 of the IMG students that applied in the last year were American citizens that had studied for their degrees overseas. Last year there were over 12,000 IMG students that applied through ERAS® and the NRMP match, of these just over 6,500 were placed.
[ad-5694358]
Your IMG application for a residency program is required if you want to become a licensed physician in the US. You will have to gain and complete your residency training before you are able to become licensed to practice without supervision. But as you can see from the statistics quoted above, many IMGs will not gain a place.
We are here to help you with all aspects of the application! You will always find quality samples and useful information about IMG personal statements and other application documents writing and application process. Read all the guidelines and be sure to get you noticed when you make your residency application.
Requirements for an ERAS® Application for IMG Applicants

All applications for residency are made through the Electronic Residency Application Service or ERAS®. IMG applicants are able to register for ERAS® from around the last week of June, a month after US graduates begin the process. Through ERAS® you will be able to upload all of the required information that will be provided to the specific residencies that you will apply to.
The following are the specific requirements that you will be required to upload including those that are specific to an IMG graduate:
Your electronic ERAS® application form
MSPE – your Medical School Performance Evaluation
Medical School Transcripts
Letters of recommendation (you nominate the recommenders)
California letter for those applying within the state
USMLE (the United States Medical Licensing Examination) transcript and scores – an IMG will be required to sit these examinations the same as any US graduate.
ECFMG status report – Education Commission for Foreign Medical Graduates
All of the above must be uploaded into the ERAS® system before you are able to select the IMG friendly family medicine residency programs that you wish to apply to. Once uploaded you will also be able to register for the NRMP match through which the places will actually be awarded once you have ranked your choices.
IMG Application Documentation

We offer a full range of support for your application for residency through some of the best advice you will find online. Through information we share we can help you to identify the specific personal qualities and skills that will help you to stand out as an exceptional applicant. How can we help you?
IMG personal statement writing tips and samples: the personal statement will often be the most important part of your application. It is your opportunity to sell yourself to the committee and show that you are an excellent match to their requirements. Expert writing tips will help you to carefully match you to the requirements of the chosen program and help you to craft a statement that is going to make you stand out.
Effective advice on writing a letter of recommendation international medical graduate: if you have been asked to write a Letter of Recommendation (LoR) through us you will get the information that will be required to craft a letter that will show the applicant in the best possible light.
Interview coaching: if the program is interested in your application they will invite you for an interview to find out more about you. On our website, you will find common and tricky interview questions and will be able to prepare strong answers for your interview so that you will be able to perform confidently.
IMG Personal Statement Samples
Writing personal statements for IMG is a much more involved process than the ones you completed before. A personal statement for the medical fellowship or residency should demonstrate a high level of maturity both professionally and personally which comes of already completing years of training within your field.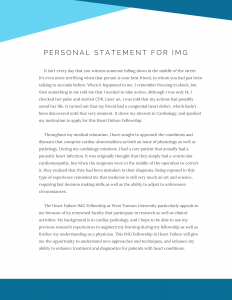 Your writing will then need to show this maturity and emphasize key stages in your learning so far, professional goals and also identify how you as an individual have changed and adapted to overcome any hurdles which were in your way.  Ensure there are no mistakes with either the layout or the writing for a successful application.
With so many IMG students applying each year the competition is extremely high, especially in cardiovascular diseases, pediatrics and pathology departments. Making sure your personal statement internal medicine IMG gets you noticed has never been so important but for the right reasons only, not because it will stand out for being bad. And that where IMG personal statement samples can help you! Start your road from checking quality samples so you will get a better grasp of its structure and what should it include!
With us, you will ensure that your IMG application will help you to stand out from all of your competition!